Game-based learning for young players
We focus on developing 7 fundamental movement skills: running, jumping, leaping, side-stepping, hopping, skipping and galloping.
Our goals:
Have fun. Keep fit. Enjoy Netball!
Players will aim to:

Sprint in a straight line with proper stride and arm swing.

Run with a change of direction.

Jump with both feet off the ground.

Balance on one leg.

Transfer the ball from one hand to another.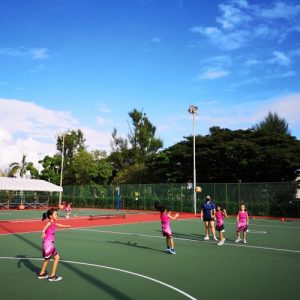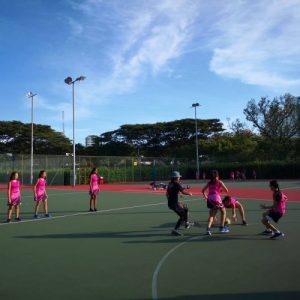 Laying a solid foundation
We focus on developing their fundamental skills taught and introduce some basic attacking and defensive strategies.
Our goals:
Prepare players for CCA selection in school and build confidence in basic skills. 
Players will aim to:
Leap forward, execute 1-2 landing footwork and catch a ball.

Run with a dodge and change in direction.

Pivot on their dominant foot and execute a chest pass.

Identify court lines and each position's area of play.
An Introduction to Netball
This carefully curated beginner's Netball course will allow new players to understand the basic skills and rules to play the sport at an entry level. 
Players will be able to learn basic footwork, incorporating into their passes and understanding sufficient rules to play the game of Netball. This is also a learn-at-your-pace program. Once the player achieves the desired outcomes, she can choose to move into an Intermediate class.
Focus areas:
Footwork: jumping, 1-2 landing, pivoting

Ball handling, catching, passes (chest and shoulder)

Netball rules (Part I)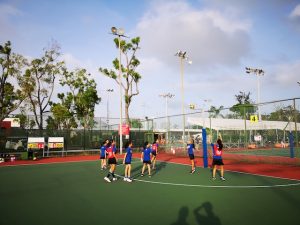 Developing thinking players
This program will build on the existing basic skills and allow intermediate players to expand their vision and understanding of the sport. Coaches will engage player's critical thinking and encourage them to ask questions.
Players will also begin to utilise different strategies in their attacking and defensive plays.
Focus areas:
Spatial awareness

Attacking concepts

Defending concepts

Court strategies (Centre pass and downline)

Netball rules (Part II)
Players aged 18 and above
Social Netball
This program seeks to give advanced players an opportunity to apply skills & strategies in a competitive/ recreational environment.
Players will be able to do peer learning and self-directed learning as the coach becomes a mentor and a facilitator to bring out the best in the players. Players are also expected to learn the values of teamwork and leadership.
Focus areas:
Team drills

Game play

Attacking and defending concepts

Umpiring